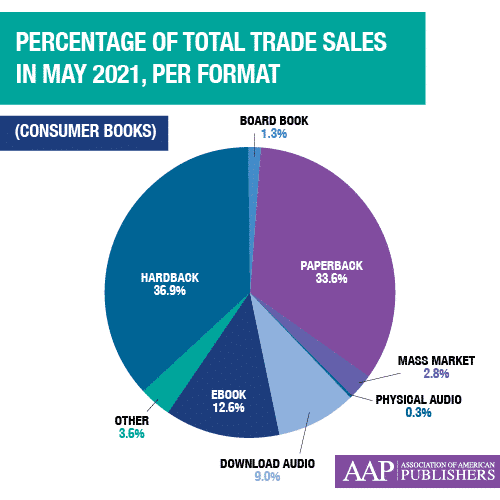 April and May have not been good months for the eBook industry. The format fell 1.2% in April and generated $ 90.8 million in revenue. In May, the decline was more pronounced, falling 23.4% for the month from May 2020 to a total of $ 86.3 million. The declines are directly attributable to the opening of more bookstores in the United States and to buyers of hardcover and paperback novels.
The physical paper format revenues during the month of May, in the Commerce category (general public books), related revenues increased by 18.7%, reaching $ 252.8 million; Paperbacks grew 14.5%, to $ 229.9 million in revenue; The mass market fell 15.1% to $ 19.2 million; and hardback books fell 4.8%, to revenue of $ 9.0 million. Year-to-date hardback revenues increased 33.8% to $ 1.3 billion; Paperbacks grew 23.0%, to $ 1.1 billion in revenue; The mass market grew 18.0% to $ 99.1 million; and Board Books grew 9.6%, with revenue of $ 66.0 million.
Sales of digital audio books continue to soar. The downloaded audio format rose 11.9% in May, to revenue of $ 61.3 million. Physical audio rose 48.5% to $ 2.1 million. In the first five months of 2021, the downloaded audio format grew 18.4%, with revenue of $ 313.8 million. Physical audio rose 11.7% to $ 9.0 million.
Will eBooks bounce back and continue to post double-digit gains in 2021? The first 3 months the format saw some very big gains, but it is worrying that during the summer months sales are down. I think a 23% drop is crazy, and I think for the rest of the year we'll start to see consistent declines in sales. Things could pick up in the fourth quarter, when most of the year's big books come out. Either way, in the first five months of 2021, e-book revenue grew 4.7% from the first five months of 2020 and generated $ 455.2 million.
Michael Kozlowski has been writing about audiobooks and e-readers for twelve years. His articles have been picked up by major and local news sources and websites such as CBC, CNET, Engadget, Huffington Post, and The New York Times. He lives in Vancouver, British Columbia, Canada.