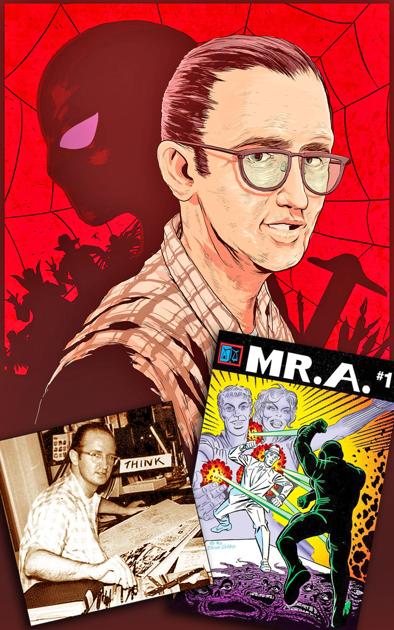 This exhibit celebrates a native of Johnstown whose stories and characters from comics and movies are legendary.
"Hometown Heroes – Steve Ditko Exhibition" will be shown July 15 through September 11 in the main galleries of Bottle Works, 411 Third Ave., in the Cambria City section of Johnstown.
The retrospective showcase will pay tribute to the artist and pioneer creator in the field of comics.
Ditko is credited as the co-creator and original artist behind Spider-Man and works for Marvel Comics, DC Comics, and other publishers.
"Heroes of the hometown"
The exhibition on the life and work of Ditko is a collaboration with the Ditko Estate and Marvel Comics.
"This exhibit is all about the community," said Matthew Lamb, Creative Director of Bottle Works.
"By showcasing Steve's accomplishments, we want to encourage community pride in this hometown hero and all of the local heroes to come. Steve has shown us what we can do – with our shared appreciation of this city and its spirit – to make our dreams come true.
As well as being one of the creative forces behind Spider-Man and his group of supporting characters and villains, Ditko has helped create many other iconic comic book characters, such as Doctor Strange, Squirrel Girl, The Question. , Mr. A. and Le Creeper.
He has also written, drawn and inked countless stories for leading publishers in the field, building a body of work that has influenced generations of comic book artists, filmmakers and television producers.
"This eight-week exhibition will showcase works of art from his formative years and decades-long professional career," Lamb said.
"The show will not only showcase him as an artist, but visitors will be able to learn more about the man behind the art."
The exhibition will include more than 50 pieces.
"Original work lost for ages"
"Unfortunately, most of Steve's original works have been lost over the centuries, but some pages exist and we have a few that will be on loan from collectors and their value is pretty incredible at this point," Lamb said.
"Most of our works are prints and artistic productions. It was also about contacting Marvel Comics and they were willing to work with us and I got permission to use pictures and make prints to showcase their work.
Lamb said the exhibit includes some interesting pieces.
"We have some that are just Steve's pencils of the original outlines of the work, some of his finished ink works, black and white images, and prints that are the fully published color images, we have so lots of options throughout his comedic career, "Lamb said.
"What's really cool is that the Ditko family has things that he did before he became a professional artist, so we'll have things that no one has seen."
In addition, the exhibition will include heirlooms and artefacts that belonged to Ditko.
"He started working in comics, even before the creation of Spider-Man, in the late 50s, early 60s and he never stopped," Lamb said.
"Deceased in 2018"
"He passed away in 2018 and had published work just a few years ago."
Lamb said that in addition to showcasing Ditko and his roots in Johnstown, the exhibit is good for the city, attracting people who want to see it.
"There are comic book fans all over the world reaching out and asking questions," Lamb said.
"I received emails just this week from people in Brazil and France who were wondering about the exhibit. Our website has received more visits in the past two months since the announcement than it has had in some time. "
For those who see the exhibit, the hope is that they will better understand Ditko's talent.
"A lot of what we're looking to show is the progression of Steve's work and his career as a whole," Lamb said.
"If someone is a devoted Spidper-Man fan and knows their work from it, they may not be aware of their other work over the years and it will show it."
To celebrate the exhibition, a VIP opening reception will be held on July 24 for members of the Ditko family, supporters and actors of the comic book industry.
A public reception will be held from 5 p.m. to 9 p.m. on July 30 to kick off the Bottle Works Folk & Arts Festival.
Events, activities
Along with the exhibition, Bottle Works has planned other events and activities to be held throughout the duration of the exhibition.
"It started out as a simple show, but once the influx of support came in we realized we had to do more and add more events," Lamb said.
Bottle Works gives artists the opportunity to express how Ditko's works inspired them in a community-curated exhibit titled "Ditko Inspired Exhibition", which will be featured alongside the main exhibit.
"With Steve's work in the industry, he's inspired a lot of creators who followed him, so we decided to do a free exhibit showing how he inspired them," Lamb said.
"A lot of the submissions that are given out are comic book art, but I have a few that show his inspiration, but they are not related to Spider-Man or the comics."
Artists were encouraged to create and donate original works or high quality prints.
Available for purchase
The coins will be available for purchase with a portion of the proceeds to benefit the Heroes Initiative, which provides a financial safety net for comic book creators, who may need emergency medical assistance, financial support for the essentials of life and an opportunity to pay for work, and future Ditko projects at Bottle Works.
In addition to the donated art, Bottle Works asked artists to record 1-2 minute videos or provide written testimonials, explaining how Ditko's works influenced them.
The testimonials will be combined with interviews with members of the Ditko family and industry professionals that will take place on a loop during the exhibition.
"This exhibit will have a minimum of 30 pieces," Lamb said.
"It's really cool because artists want to support what we do by donating their pieces."
Public art initiative
Bottle Works is also planning to erect a public art piece in honor of Ditko's legacy as part of its ongoing public art initiative.
Ditko-themed murals will appear at the Stone Bridge Brewing Company in downtown Johnstown and the Tulip Building at Bottle Works.
"We're looking to expand our public art, and we figured if we were going to honor Steve Ditko, let's not stop at the exhibit," Lamb said.
"Let's have murals installed so that we can continue to influence people and show its importance," Lamb said.
The murals will feature Ditko's work.
"The images will be digitally printed on parachute cloth, and then we can have community paint days, where everyone can come and do some paint by numbers," Lamb said.
"Some artists in the area will do touch-ups and whatever needs to be done to finalize it before installing it on the wall."
He said they are awaiting final Marvel Comics approval on the design and would like the mural to be installed at Stone Bridge Brewing Company before winter.
"When I first contacted Marvel about a public mural, the answer was no," Lamb said.
"I've been told they don't approve of public murals anywhere, but the fact that they came to tell us this is Steve's hometown, maybe they will approve of it," Lamb said.
"We might end up having the only approved mural in the whole country.
"That would be pretty awesome. "
Once everything is finalized, public painting dates will be announced.
"I hope this will raise awareness and continue Steve's story, and I think it will be great for the community to be able to participate in this," Lamb said.
"In ten years, people can drive by and tell their children that they participated in the painting of this fresco. "
Play at the State Theater
"Ditko," a play chronicling his life and times, will premiere at 1 pm on July 25 at the State Theater, located inside the Lee Campus of Conemaugh Health System on Main Street in downtown Johnstown.
The play was written and directed by Lenny Schwartz and debuted in New York City in 2019.
"We're bringing a little bit of New York to Johnstown," Lamb said.
"When I contacted him (Schwartz) he was very personable and happy that we were interested."
The play will be directed by the Pitt-Johnstown Theater Arts Department.
"It's kind of an ironic retrospective of his career," Lamb said.
"If you research Steve, you know he was a very private person, and not much is known about who he was as a person, so that's what the focus is. This piece does a good job of talking about his career and how it went. "
Tickets cost $ 18 for Bottle Works members and $ 20 for non-members and can be purchased online at www.bottleworks.org.
A second screening of the play is being finalized.
Other activities include workshops on how to develop your own comic book on July 31, August 7, 14, 21, 28 and September 11; a screening of the film "Doctor Strange" on the Lawn of Bottle Works on August 6; and Ditko Con 2021 from 11 a.m. to 7 p.m. on September 11 featuring comic book creators and lectures.
There is no admission to attend the exhibition.
The gallery's opening hours are 10 a.m. to 4 p.m. Tuesday, 10 a.m. to 7 p.m. Wednesday to Friday, and 10 a.m. to 3 p.m. Saturday.